Services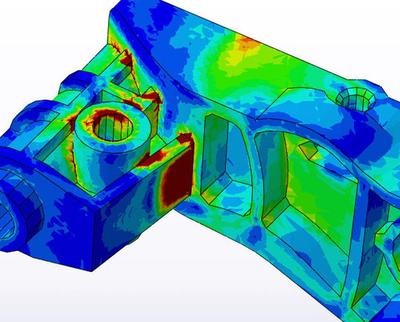 We have the software tools and experience for the analysis and/or design on forged and welded structure material designs and powertrain systems. Our design engineers work with a large palette of assessment, simulation and engineering design software to isolate, redesign and fix structural and drive train issues for field corrections and plant manufacturing.
Our software palette includes
I-DEAS
Pro Engineer
ABAQUS
NX Nastran
FE Safe
Hypermesh
At Acutek Services, our engineers take pride in their work, enabling them to provide cost-efficient design and analysis solutions tailored to the customer's complete needs and satisfaction.
Call us today at 616-510-5579. Or email us with questions or requests for information with this easy contact form.
Our engineering staff has extensive experience in
Welded structure fatigue
Finite element analysis
Fatigue life prediction
Bolted joint analysis
Contact geometric nonlinear analysis
Our finite element analysis and design services include projects covering
Welded and fabricated structures
Powertrains on heavy machinery
Planetary Gear Systems
Differentials and housings
Wet disc brake systems
Our staff has many years of experience in Finite Element Analysis and Fatigue Life Prediction, Welded Structure Fatigue, Bolted Joint Analysis and Contact Geometric Nonlinear Analysis. The following is a list of some projects completed…
Large Mining Truck Front Strut , Spindle, and Wheel – Geometric Nonlinear Analysis, Bolted Joint, Fatigue
Large Mining Truck Frame Development and Analysis of Product Improvements - Fatigue
Large Mining Truck Rear Axle, spindle, and Wheel - Machine System Simulation and Non – Geometric Nonlinear Analysis, Fatigue
Motorgrader Rear Axle and Tandem Assembly - Geometric Nonlinear Analysis, Bolted Joint, Fatigue
Wheel Loader Front Linkage and Bucket – Design, Fatigue
Correlation of Motorgrader Front and Rear Frame On-Vehicle Measured Strain to FE Model
Development of Small, Medium, and Mining Motorgrader Front and Rear Frames – Design, Fatigue
Large Mining Truck Rear Wheel Final Drive Planetary Gear Train Validation - Geometric Nonlinear Analysis, Bolted Joint, Fatigue, Design
Wheel Tractor Scraper Differential Validation - Geometric Nonlinear Analysis, Gear Surface Contact, Bolted Joint, Fatigue
Medium Wheel Loader Differential Field Failure and Redesign – Geometric and Material Nonlinear Analysis, Bolted Joint, Fatigue, Design
Medium Wheel Loader Differential Field Failure and Redesign – Geometric and Material Nonlinear Analysis, Bolted Joint, Fatigue
Large Hydraulic Shovel Swing Frame, Swing Bearing and Carbody Validation - – Geometric Nonlinear Analysis, Bolted Joint, Fatigue